Blue Reef Sudoku Game
Works with Windows XP and Vista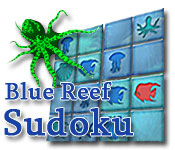 If you are not familiar with the game of Sudoku, it is basically a logic puzzle game. You start with  blocks that are made up of squares. You fill in the squares so that each block has unique characters, each column has unique characters, and each row has unique characters. Normally, the game of Sudoku is played with numbers in each square, but since there is no math involved, you can also play with letters or pictures in the squares as well.
Blue Reef Sudoku is a nice Sudoku game with beautiful graphics and options that will allow players of all ages and skill levels to enjoy the game.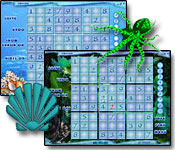 Beginners can set the game to a 4X4 grid with colorful sea life pictures instead of numbers. When you point to a square, the 4 possible pictures are displayed and you click on the one you think will work. If you are right, the image appears in the square, and you can move on to the next empty space. If you have the wrong image, it will appear, but be bright red. Click on it again to display your choices.
Once you have mastered the 4X4 grid, you can move up to 6X6, 8X8, 9X9, 12X12, or 16X16. You can also select skill levels from novice, expert, or master.
When you select the scroll-over input mode, you can right click on the images that you think might be the right ones and they will turn orange. When you have decided on the correct image, left click on it to select it.
If you love the game of Sudoku, and especially if you want to introduce this game to the younger members of your family, you will love Blue Reef Sudoku.

Elizabeth