BVS Solitaire Collection 
Works in Windows 95/98/ME/NT/2000/XP
Cost: $19.95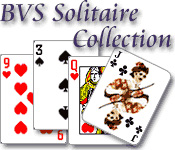 BVS Solitaire Collection 5.4 is an award-winning collection of 390 solitaire card games and it includes a lot of original variations you won't find elsewhere.
BVS Solitaire Collection features: "Show Next Move" command, multi-level undo/redo, statistics for multiple players, selectable backgrounds, automatic card moving, restart feature, shuffle selection, load/save feature, sound, support for both Drag-and-Drop and Point-and-Click methods to move cards,  and more.
BVS Solitaire Collection includes over 90 original solitaire variations. You won't find so many original games in other programs. 
It also includes all of the most popular solitaire card games such as Spider, Klondike, Freecell, Carpet, Forty Thieves, Monte Carlo, Russian Solitaire, Flower Garden, Golf, Cruel, Accordion, Pyramid… .
You can modify rules of almost any of the included games, thus creating your own solitaire game variation.
Interface is completely customizable. You can choose from lots of backgrounds and card backs, or you can use any .bmp or .jpg image files to create your own backgrounds and card backs.
Elizabeth