Candy Land – Dora the Explorer Edition
Works in Windows 2000, XP, and Vista
Our family loves to play games, and I have fond memories of playing Candy Land with my kids when they were younger. It is one of the first games we played together, and it helped them learn colors, counting and so much more.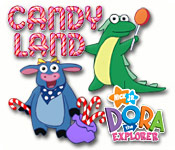 Dora, Boots, Diego and Backpack are on their way to a Fiesta! This computer version of Candy Land, Dora the Explorer Edition includes all the fun of the original game, you can play it alone against the computer, or have several players take turns. Along the way, there are some fun games to play that teach colors, counting, letters and more.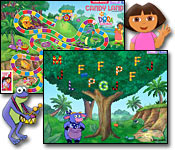 You and your children will help Dora and her friends find their way through Candy Land to the Fiesta at the end.

Click on one of the images above to play Candy Land free for one hour.
Elizabeth