I guess that I like farm games a lot because they remind me of my childhood. Farm Mania 2 is a new release from Big Fish Games and it is quickly becoming one of my favorites.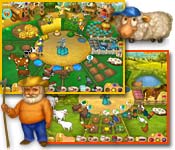 The characters in the game are cute, the graphics are good, and each level is a bit more challenging than the the last. You start out planting plants, feeding and watering the animals and chasing away the crows, foxes and moles.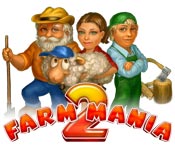 As the game progresses, you move up to more complicated products like cheese made from milk, cakes made from grain and eggs, and jams made from berries.

Mixed in with the fast paced levels of tending the farm, there are levels where you find the hidden animals that ran into the forest. You click on each animal as you find it, but don't click too many times on the wrong places, or a wolf will run out of the woods and chase away one of your animals.

When I have had a stressful day, I like to unwind by playing games, and Farm Mania 2 is a good game to lose yourself in.
Click on one of the links above to play Farm Mania 2 free for 60 minutes, and if you like it, you can support this site and purchase it for only $6.99
Elizabeth