Jane and Joe are pitching in to help Grampa with his farm. You get to choose if you want to be farmer Jane, or farmer Joe for this game as you help plant crops, tend the pigs and cows and keep the customers happy!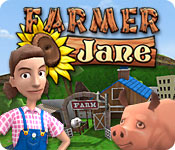 There are 5 different farms for you to work on, and you will be working on each farm for 12 months. You will need to give your crops extra water in the summer, rake the leaves in the fall, and shovel snow in the winter. You will be able to sell more than 25 different items.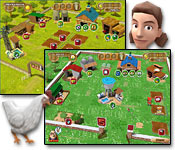 With the money you earn selling your products, you will be able to upgrade your farm make your tractor faster, get bigger barns, and even buy Jane (or Joe) some fancy new clothes.

This fun game runs on Windows XP or Vista.
Click the image below to download it today and play the first hour free!