Granny in Paradise
Works in Windows 200, XP and Vista.
Click on the image below to play free for one hour.
Cost: $19.99 ($6.99 for Game Club Members)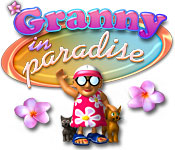 I'm a grandmother, so I guess it is only natural that I should love to play a game that features a fat little grandmother in flip flops as she runs around rescuing her kitties from the evil Dr. Meow. 
You can help granny run, climb, dig, float and tumble through 5 worlds and more than 170 levels as you rescue the cats and outwit the bad guys.  To move Granny around the screen, you use your arrow keys on the keyboard, and to dig holes, or fight the bad guys, you use the spacebar. That's all there is to it!
Granny is one of my all time favorite games. Go ahead and see if she will become one of your favorites too. Click on the image below to downlaod the free trial and play for 60 minutes.
Elizabeth