Professor Fizzwizzle and the Molten Mystery
Professor Fizzwizzle is back with another great game. I have always liked the original Professor game, and this new one is even better.
For starters, this new game has three levels of difficulty, (kids, regular, advanced) and some excellent training levels that walk you through each new technique as it is introduced. In addition, every level has a solution in case you just can't figure it out.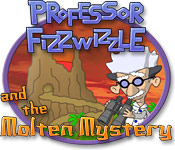 While on a well deserved vacation, Professor Fizzwizzle's investigation of a strange volcano has landed him in a Molten Mystery! Now it's up to you to master exciting new gadgets, outwit the Bat-Bots, and vanquish a truly cunning villain! Can the professor count on you to help? With over 200 levels spanning 3 difficulties (kids, regular, and advanced) Professor Fizzwizzle can keep an entire family occupied for hours of skill-building and problem-solving!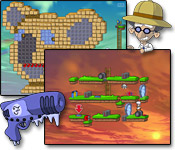 Create your own levels.
More than 200 levels.
3 difficulty settings.

Click on one of the images in this article to play Professor Fizzwizzle and the Molten Mystery free for 60 minutes, or purchase it for just $6.99 (if you are a game club member)

Elizabeth