Professor Fizzwizzle Game
Works in Windows 95/98/2000/ME/XP/Vista
Price: $19.95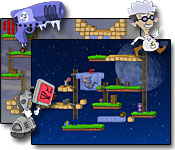 As I was putting older articles on my new website this week, I came across an old game that I hadn't played in ages, and had forgotten all about. I decided to install it and see if it works in Windows Vista, and it works like a charm.
This is a fun, mind-expanding puzzle game, where you take control of the diminutive genius, Professor Fizzwizzle. You must help the professor use his brains and his gadgets to solve each exciting level.
I like this game, because it makes you think. Each level is a small puzzle that you have to figure out in order to get to the exit. Professor Fizzwizzle requires some skill, but mostly a lot of thinking. This is a great game to have on hand for the kids (and adults) to play! As you progress through the levels, the puzzles get a little harder and harder, but if you are stuck, you can click on the menu button and actually see the solution.
Click on the image below to learn more about the game and download a free trial.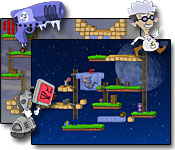 Elizabeth