Professor Fizzwizzle Game
Works in Windows 95/98/2000/ME/XP
Price: $19.95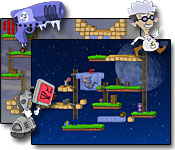 Professor Fizzwizzle needs your help! His once-friendly Friend-Bots have gone in to rage mode, and have thrown him out of his lab! Can you puzzle your way past the Rage-Bots and help Professor Fizzwizzle set things right? He's counting on you!
This is a fun, mind-expanding puzzle game, where you take control of the diminutive genius, Professor Fizzwizzle. You must help the professor use his brains and his gadgets to solve each exciting level. 
I really like this kind of game! It is like the Beetle Ju game that I have played all the way through several times now. It requires some skill, but mostly a lot of thinking. This is a great game to have on hand for the kids (and adults) to play!
Click on the image below to learn more about the game and download a free trial.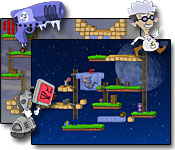 Elizabeth