SpongeBob SquarePants Obstacle Odyssey
When my daughter, son-in-law, and 3 year old grandson were visiting last week, I spent some time playing on the computer with my grandson. He already enjoyed playing minesweeper (he likes to make the bombs go off) and a matching game, so I wanted to find a new game he would enjoy. After a little bit of searching at the Big Fish Games site, I found this fun little game called SpongeBob SquarePants Obstacle Odyssey.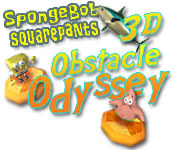 In the SpongeBob SquarePants Obstacle Odyssey game, you are supposed to make SpongeBob collect bubbles and make it to the end of each level without falling off the edge of the board. I found the game fun and a little challenging, but my grandson had a blast making Spongebob fall off the edge of the structure! When he got to the edge, spongebob would wobble and rotate his arms before falling. We had a great time laughing together.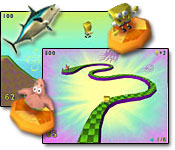 This would be a great game for children of all ages from the youngest who just enjoy being entertained by the cute spongebob figure, to older children who will be challenged by the increasingly harder levels. It would also make a great Christmas gift for the young computer users in your life.

Just click on one of the images in this article to download the game and try it out, then be sure to pass it on.
Elizabeth