The Timebuilders: Pyramid Rising
I like games that require thinking to solve each level, and this game, while very easy for the first few levels, eventually require you to figure out what you have to do in order to finish each level in the time alloted.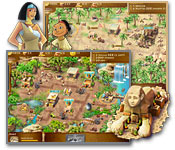 Even though I like a challenge, this game will not be frustrating for the young or beginner. Each level has a time limit in order to win a golden cherub for that level, but once the time has expired, you can continue to play and eventually pass that level and move on to the next one.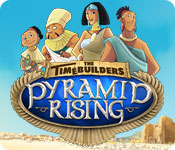 In Pyramid Rising, you have been appointed the daunting task of reconstructing villages and bringing hope to the people of Egypt. You will hire workers, manage resources, build structures and gather stone all while fending off alligator attacks and more! Your workers will work faster if you buy them a camel to ride on, and you will need to mine stones in order to build houses and other structures.

I have enjoyed playing… I mean testing this game, and I'm sure you will as well. Give it a try today, click on one of the images in this article to learn more, and download a free 60 minute trial.
Elizabeth
PS: This game carries The Big Fish Games Guarantee:
Quality tested and virus free.
No ads, no adware, no spyware.