Dear Computer Lady,
One of your emails mentioned playing the "Mini -Golf Game" which you included in one of your emails.  I must have missed it, and didn't see it.

My husband loves to play golf, but is incapacitated right now, and would love to receive that game for entertainment.  Would you kindly sent it to us.

Many thanks.  Joy
Dear Joy,
The Mini-Golf game that was mentioned in a recent article is an online game that is actually found on many websites around the internet. You can quickly find the game by going to your favorite search engine (I use Google) and search for the following search term:
Mini golf swf
This should bring up several sites with the online flash game.
There is also a very fun mini golf game at my favorite game site, Big Fish Games, called Toy Golf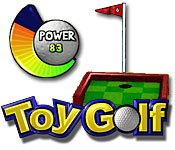 It's mini-golf with a twist! Shrink your ball and play indoors. Get all the thrills of birdies and bogeys, in the comfort of a house. Putt your way through the kitchen, study, living room and more from a new perspective. 3D graphics make you feel like you're playing through a whole new kind of course. You might want to warn your neighbors: Fore!
• Hot-seat multiplayer mode.
• Multiple camera angles.
• 9 fantastic courses.
• 3D graphics.

Elizabeth