Virtual Farm
Works in Windows XP & Vista
Click on Image to play free for one hour!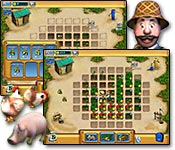 Have you ever wanted to be a farmer? This fun little game will help you to turn your little farm into a big, profitable enterprise! You start out with a little plot of land that is growing nothing but grass, and as you work watering, harvesting and selling the grass, you earn money to upgrade your farm. Before you know it, you will be planting tomato, pineapple and mellon seeds and selling those at the market as well.
As your farm grows, you will win awards for things like planting different types of crops, upgrading all your equipment, and saving coins. 
This game has a lot of educational features built right in, for example:  You are able to set your price at the market, and the symbols will let you know if the item you are selling is in demand or not. 
Hillbilly Time Management game
Multiple kinds of crops to grow
Build a booming farm business