Works in Windows XP, Vista
I like thinking games that also have an element of fun to them, and this game really fits that description!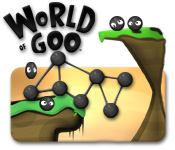 In World of Goo, you have to build structures (mostly towers and bridges) using little goo balls. When your structure reaches a pipe, the remaining balls are collected and, if you collect enough goo balls, you have won the level. I have played a dozen levels of this game, and find it to be fun, challenging, and educational all at the same time.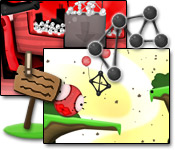 While you build your structures, the goo balls talk and make noises when you pick them up. If you are not careful, your structure will collapse before you reach the pipe and you will have to start all over agin.

If you have a budding architect in the family, this game will be a great educational toy!
Click on one of the game images in this article to download the game and play it free for one hour.
Have fun!
Elizabeth